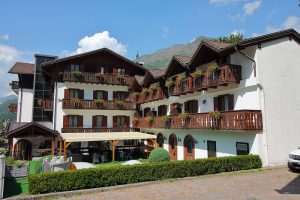 The Hotel Ai Tre Ponti is located in Primiero San Martino di Castrozza (TN), at the foot of the village of Tonadico, 500 meters from the center of Fiera di Primiero, easily accessible by a pedestrian road that runs along the stream Canali.
Near the hotel there is a bus and skibus stop that gives access to all the localities of the valley, where in summer it is possible to go on excursions of various levels both for families and experts and in winter it is possible to go cross-country skiing or alpine skiing, thanks to the numerous ski-lifts in the area.
The Hotel Ai Tre Ponti has 27 very comfortable rooms, clean and well designed in mountain style, and equipped with different services depending on the type Family or Relax. In addition, two rooms, in particular, are created for the reception of people with disabilities.
In the hotel there are several spaces dedicated to relaxation, such as the reading room, TV room and bar, recently opened to the public, as well as a spa with turkish bath, sauna and jacuzzi. Customers also have a large private car park with access via personal pass.
The structure is open all year round, with bed and breakfast, half board or full board.
The new management of the Hotel Ai Tre Ponti of the brothers Lorenzo and Valentina brings with it all the young strength and concrete experience necessary to put quality first, always. The impeccable welcome of the guests, the goodness of the food, its ingredients and its recipes prepared by chef Eugenio (father of Lorenzo and Valentina), the high level of the global offer (structure, rooms, wellness center, location) and the unique beauty of the territory of the Dolomites, contribute to make your stay at the Hotel unforgettable and exciting.
At the Hotel Ai Tre Ponti everything contributes to making guests live memorable experiences. Even the staff, always kind and prepared, comes from the area, helping to offer genuine and authentic atmosphere, and also managing to give firsthand directions and suggestions specific to the area, to discover the most magical places and the most exciting routes around the hotel. Because there are many things to do in the Dolomites… 🙂
Kindness, helpfulness, a welcoming and well-kept environment help to make the dream of a holiday full of wellbeing and positivity come true, where every need is satisfied, thanks to the friendly and respectful attitude of Lorenzo and Valentina, who are always in contact with their customers on a daily basis.